UMA MURTHY, M.D

Specialty:
Dr. Murthy provides services in Internal Medicine and Primary Care.
Training and Experience:
Dr. Murthy has done residency in internal medicine in Baltimore and is board certified. She has over 14 years experience in internal medicine and primary care. She is able to take care of chronic medical illnesses, as well as acute medical problems. She is compassionate, caring and communicative. She also provides women's health services including office gynecology.
Services offered:
Annual Physicals including DOT physicals Routine Gynecology exams.
Management of chronic conditions such as hypertension, diabetes mellitus, high cholesterol, thyroid disorders, etc.
Adult vaccinations.
Joint injections.
Minor procedures – lacerations & small skin lesions excisional biopsies.
EKG.
Lab draw at site.
Saturday appointments available.
E-mail:
drumamurthy@hotmail.com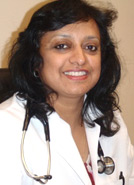 Use this website to